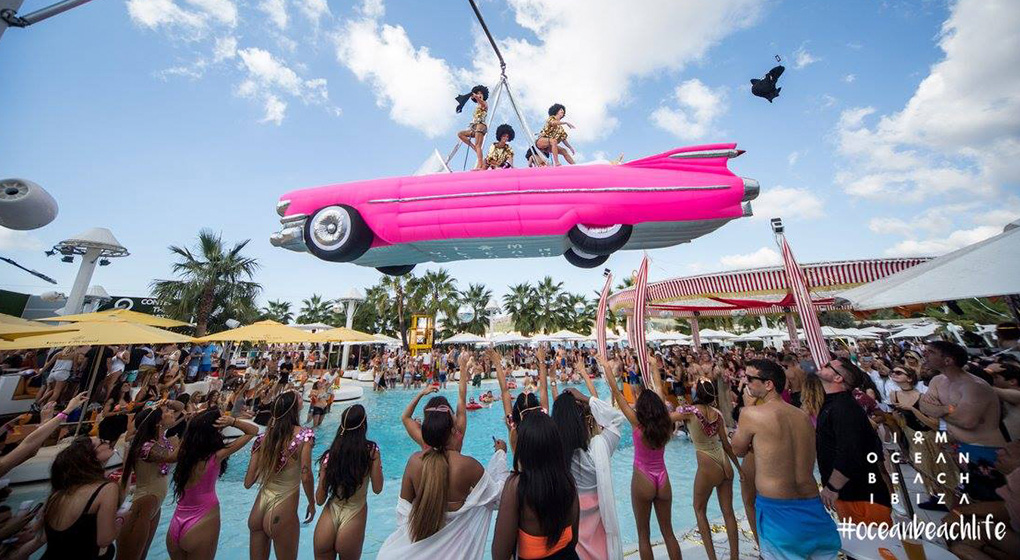 THE QUEEN OF THE SAN ANTONIO HARBOUR RETURNS FOR THE 2018
SEASON OCEAN BEACH IBIZA ANNOUNCES A STANDOUT SEASON WITH NEW NIGHTS AND ENTICING ENTERTAINMENT
LONDON APRIL 2018. Ocean Beach Ibiza, the original and ultimate beach club experience in San Antonio announces bookings are now open for a standout 2018 season; promising more fun and spectacular theatrics the venue is now known for.
The lavish opening party is 18th May and will run through to the closing event on October 6th; all in the privileged position at the centre of the San Antonio Harbour. Ocean Beach Ibiza will once again be the ambassadors of the early season holidays by offering a chance to party before the grand opening with a special selection of events which will run every Friday, Saturday and Sunday from April 27th 2018 up until the main opening party in May.
This year sees the launch of an Ocean Beach developed night 'ONE' on Thursdays launching 7th June. Headlined by Ocean regular and fan favourite DJ Spoony plus very special guests including Artful Dodger, Masterstepz, Pied Piper, Radio 1 Xtra's DJ Ace and Melody Kane who will provide the event with an urban soundtrack in the premium, contemporary setting. Spoony commented "There is a real gap in the market for a brand event of this genre. We will play a mix of the latest hits and classics across R&B, garage, hip hop and soulful house for a discerning audience."
The newly confirmed weekly line up for 2018 includes:
Monday – HEDKANDI – New for 2018 a quartet of electric musicians alongside stunning performances and the best selection of house from disco to twisted.
Tuesday - KISSTORY The definitive curation of old skool and anthems from one of the UK's most popular radio station' returns for 2018.
Wednesday -ABODE's Fruity sibling HotBED returns for the best vocal house with a fun tropical theme that promises to bring nothing but good vibes and smiles from day to night
Thursday ONE – The hottest urban beats spun by a mix of established and breaking talent brought to you by Ocean Beach Ibiza.
Friday Dreamland Pool Party Immerse yourself in a euphoric world of wonder and fantasy where curious characters and breathtaking skyshows accompany the Ibizan soundtrack from the Ocean Beach residents.
Saturday – Soul Heaven – Now in its 6th year the 'Island favourite' playing the best in soulful house and disco with respected headliners including Sandy Rivera, Mousse T, Grant Nelson, Purple Disco Machine and The Reflex.
Sundays at Ocean Beach Ibiza play host to a revolving selection of parties that share the sense of fun and theatre the beach club is famous for. Confirmed for this year: SIN Sundays, Boat Club, House in Paradise, Ibiza Spray and Candypants.
Following the enormous success of last year Ibiza House Orchestra have confirmed their exclusive Ibiza date as 19th August, playing Ibizan classics with a full band and live vocals - one of the hottest tickets last year, guests should book early to witness this very special event. Now an essential part of an Ibizan holiday, Ocean Beach Ibiza reservations are now open for guests to plan a few days of decadent fun in the beautiful surroundings of the beach club. The standout 600M2 pool is perfect for a cooling dip whilst the garden beds offer luxurious comfort for enjoying the Ibizan sun and sipping on one of the quenching handmade cocktails.
At night the club takes on a distinctly nocturnal personality, illuminating the space with a bespoke lighting rig which creates a sparkling backdrop to the deeper beats and breathtaking entertainment.
A perfect moment to recharge and people watch, is the restaurant within Ocean Beach Ibiza. A mix of tempting plates for lunch and dinner including juicy Argentinian steak and handmade sushi. There is also a range of delicious local produce for vegetarian and vegan diners. To accompany why not pair with one of the handmade cocktails from the extensive menu or champagne from Veuve Clicquot – perfect for an envy inducing Instagram shot.
Now in its seventh summer Ocean Beach Ibiza spends the winter and spring tearing down and rebuilding the club to emerge rejuvenated for a new season each year. The deluxe party experience has become of favourite of celebrities including Ed Sheehan, Pixie Lott & Oliver Cheshire, Eva Longoria, Tinie Tempah and Rosie Huntington-Whitely amongst others.
Returning even bigger is fashion partner I Saw It First, the hottest online fashion destination, which delivers the hottest trends in fashion and pop culture first. They will include a hand picked Ibiza collection which will be available exclusively at the Ocean Beach Boutique allowing guests to grab a perfect item to complement their Ibiza wardrobe whilst in the beach club.
For more information, imagery and press requests please contact: miriam