Este fin de semana en Ibiza disfruta con las fiestas de San Antonio ¡y mucho más!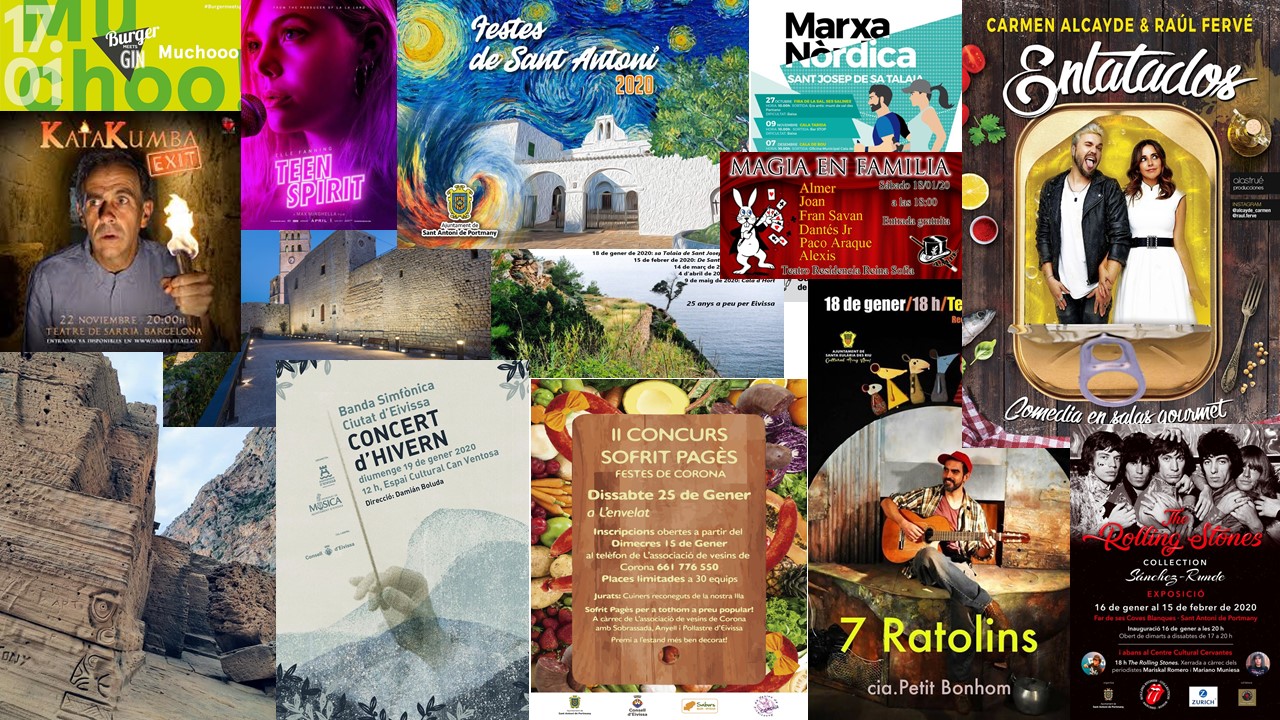 FRIDAY
- Burger Meets Gin with Mucho Muchacho DJ Set. 7 notas 7 colores. From 7.30 pm.
- Theater: "Katakumba Exit. Reflexiones profundas para desenterrarse (de risa)". Teatro España - Santa Eulària. Ticket info: +34 680 922 774
- Theatre Show @ Can Ventosa. Title: Juana. Cast: Aitana Sánchez Gijón, Chevi Muraday, Carlos Beluga, Maximiliano Sanford i Alberto Velasco. By: Losdedae Dance Company. Limited places.
- Cinema in original english version, at 20.30h in Sant Josep. "Teen Spirit".
- Commedy: "Enlatados" with Carmen Alcayde & Raúl Fervé. Tearo Ibiza. Tickets: atrapalo.com
SATURDAY
- Traditional Market in San Jordi, Las Dalias and "Mercat de Forada" (Es Buscastell).
- Guided walking tour: Sa Talaia Sant Josep & Ses Roques Altes. Meeting poing 10 am. Insititut d'estudis Eivissencs (Vía Púnica, 29 con carrer de Lleó).
- Walk with Amics de la Terra : Sa Pedrera. Inscriptions: info@amicsdelaterraeivissa.org
- Heritage Route through Dalt Vila: All interested parties can register by writing to the email madinayabisa@eivissa.es, or by calling the Madina Yabisa Interpretation Center (tel. 971 392 390) from Tuesday to Sunday from 10am to 2pm.
- In Santa Eulalia, at the Teatro España: Family Theater: 7 ratolins. 6 pm.
- Guateque "Anem de palanca" in Sant Antoni. At the tarp in the Passeig de ses Fonts. With the live performance by "La Década Prodigiosa". DJ Pepe Pilot & DJ Vázquez
SUNDAY
- Traditional Market in Sant Joan.
- Sports in San Antonio: 09.00 - Olympic fight. Ses Païsses sports hall. 09.00 - Fishing Trophy Fiestas Sant Antoni. 09.00 - Judo. XXXVII Fiestas Sant Antoni Trophy Can Coix Sports Hall. 11.00 - Open Hoouse at the Molí d´en Simó. Asociación Artesanos de Portmany. 11.00 - Zumba Party with Ana Judith
- Walk to "es Hortets" - Santa Agnès. Meeting point at the parking, at 09.00h.
- Nordic Walk Sant Josep: Sant Agustí. Sign up: - Municipal Pool Sant Josep (971 801 504) - Can Guerxo Sports Center (971 308 286)
- Trail running Puig de Missa. Inscriptions: here
- Winter Concert Banda Simfónica Ciutat d´Eivissa. Directed by Damián Boluda. 12 h. Can Ventosa
- Theater: "Sa vidriola" in Corona. 6 pm.