Ibiza's heritage night, music and more to enjoy the weekend in Ibiza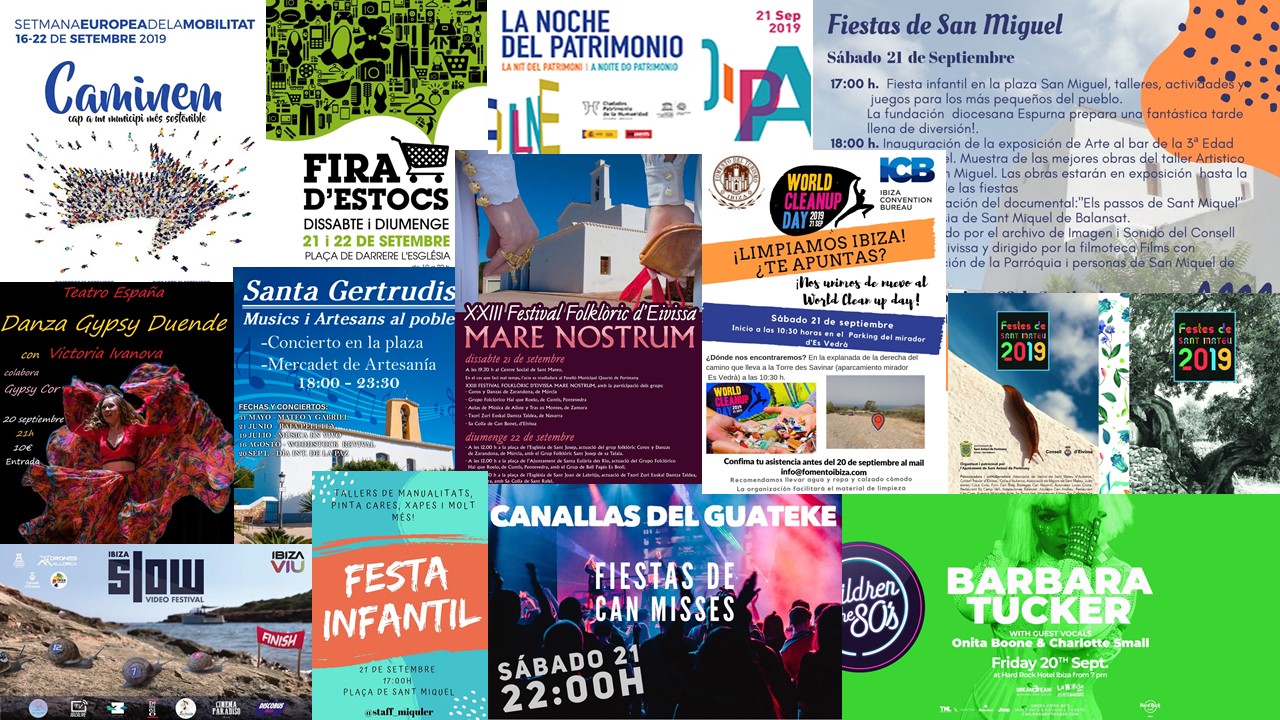 FRIDAY
- From 7 pm. in Hard Rock Hotel enjoy the party "Children of the 80's".
- IBIZA SLOW VIDEO FESTIVAL: Friday 20th September at 20:30h. Baluard de Sant Pere (Ibiza. Free Entrance)
- Teatro España: Danza Gypsy Duende with Victoria ivanova. Special cooperation by Nur Banu Layaly & Ibiza Tribal Clan.
- Art & Mercat in San Antoni.
- Musicians and Craftsmen in Santa Gertrudis. From 6 to 11.30 pm.
SATURDAY
- Artesanal market in San Jordi, Sant Josep and Mercat de forada (Es Buscastell).
- Stocks Fair in Sant Antoni. In the square behind the church. From 10.00 to 22.00h.
- Walking for a more sustainable Santa Eulalia: Cyclist route. At 10.00h at the Town hall square. Can Guasch - Camí des Novells.
- World Clean Up Day - Ibiza Convention Bureau & Fomento Turismo Ibiza. 10.30h - parking mirador Torre des Savinar. Bring your own water, hat, sunscreen and comfortable clothes.
- Ibiza's Heritage night: At 11.30, the contemporary dance company, "La Phármaco", offers an open and free movement and dance workshop in the cloister of the Ajuntament Vell. At 19:00, the book on the history of contemporary dance in Spain will be presented by Lola Tena, author of the part that refers to the Balearic Islands. La Phàrmaco plays the contemporary dance show: "La Errancia" at Mercat Vell at 20.00. "Interlude" at the Plaça de Vila at 21:00. "Miserere" at the Baluarte de Santa Llúcia at 22.00. "Open Heritage" heritage spaces that will remain open from 20 to 00 hours and with free admission: Museu d'Art Contemporani d'Eivissa, Madina Yabisa, Arxiu Històric d'Eivissa i Formentera, Can Botino, Refectori i Claustre de l' Ajuntament Vell, Cathedral of the Mare de Dèu de les Neus and Esglèsia de Santo Domingo (Convent).
- Festes de Sant Mateu 2019 - Big Day - Saturday 21st September. 12:00h - Mass, and then procession in honour of Sant Mateu, folk dances with Sa Colla d´Aubarca, taste of orelletes and traditional cars parade adorned.
19:00h - Festival Folklòric Mare Nostrum. 22:30h - Concert - VARGAS BLUES BAND (Place: Poliesportiu)
- Children´s Party. Sant Miquel. Workshops, face-painting and games. Plaça Sant Miquel at 17.00h
- Back to School Music Festival - BTS19
- XXII Festival Folklòric Mare Nostrum. Saturday at 19.30h in Sant Mateu.
- XIV cycle of Autumn concerts at the organ of the church of Sant Josep. Concert titled 'Fiori Musicali' by the italian organist Angelo Comotto.
- Canallas del Guateke live at Can Misses
SUNDAY
- Walking for a more sustainable Santa Eulalia: Cyclist route. At 10.00h at the Town hall square. Can Guasch - Camí des Novells.
- Children activities Passeig s´Alamera. World Day Without Car. Traffic Park for children: 10am to 1pm. Drawing Contest. Bycicle care workshop.
- TO THE MUSEUM WITH FAMILY 2019. Thematic workshops aimed at family groups composed of, at least, one adult person and one or more children between 6 and 12 years old. Schedule: From 11:00h to 13:00h.
- XXII Festival Folklòric Mare Nostrum: 12.00 - Sant Josep church square: Coros y Danzas de Zarandona, Murcia & Grup Folklòric Sant Josep Talaia. 12.00 - Santa Eulalia´s town hall square: grupo Folclórico Hai que Roelo, Cuntis.Pontevedra & Grup Ball Pagés es Broll. 12.30 - Sant Joan´s church square : Txori Zuri Euskal Dantza Taldea, Navarra & sa Colla de Sant Rafel. 19.00 - Reina Sofia Park, Ibiza town: Aulas de Múisca de Alista y Tras os Montes, Zamora & sa Colla de Vila.
- "Olé a un tiempo". Show and concert in Can Ventosa. 9 pm
- Concert Vargas Blues Band in Sant Mateu. 10:30 pm.
- Mobylettes Race - Fiestas Jesús. Circuit Go-Karts on the road to Santa Eulalia. 09:30 h.
- Traditional market in Sant Joan from 10 am to 3 pm.
- Children theater in Cas Serres. "Pequeño Big Blue". 11 am and 12.45 pm.
- Spartan Pagesa Race in Sant Miquel. From 12 to 6 pm.
- Sant Mateu: 19:30h - Theatre: Sa Partió. By grup de Teatre des Cubells
20:30h - Trophy delivery (diferent competitions)
Night for town people and dessert contest
Place: Poliesportiu de Sant Mateu