Muestra de Blues, caminata solidaria en San Agustín y ¡mucho más para este finde!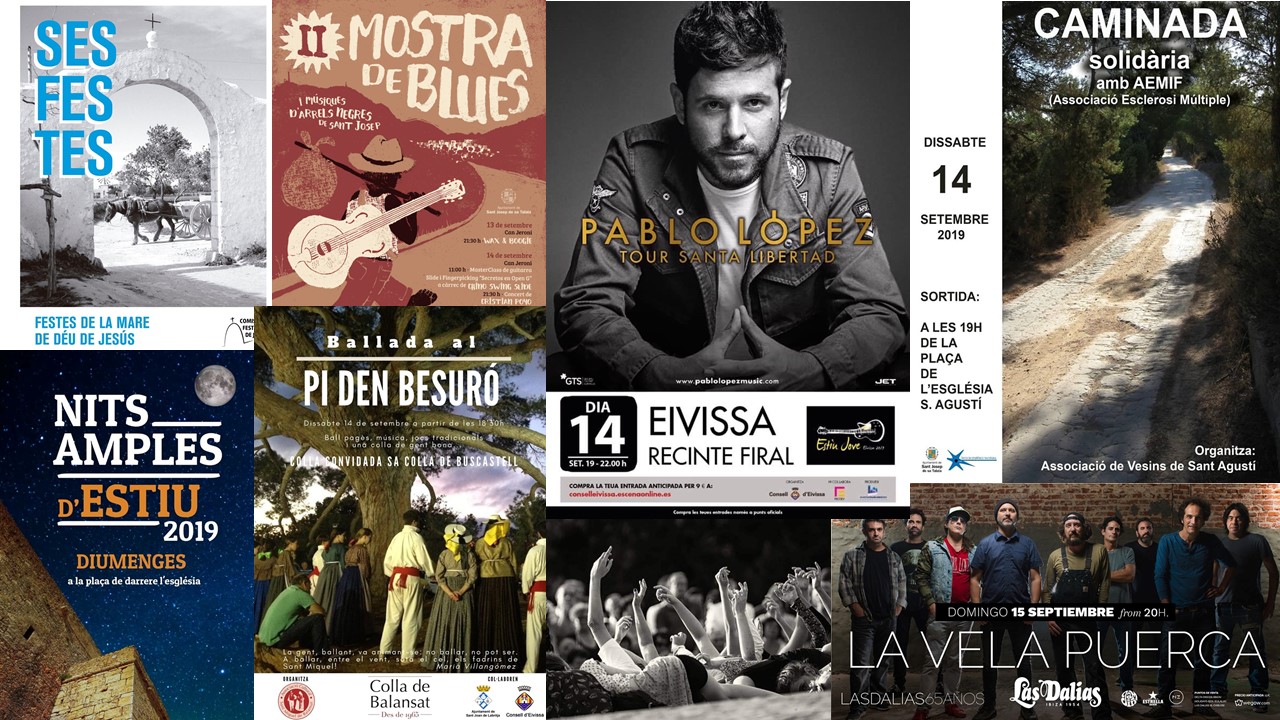 FRIDAY
- Dance Show : "All Ways" by Sharon Fridman company. Auditori Centre Sociocultural de Cas Serres. Admission 8€. 12€ at the ticket box.
- Orienteering Run "Gimcana Jesús" at the finca CAn Pep Toni. 8.30 pm.
- Art & Mercat in San Antoni. From 5 to midnight.
- Blues in San José: Can Jeroni at 21.30h. WAX & BOOGIE


SATURDAY
- Can Jeroni a At 11.00. Slide & Fingerpicking masterclass "Secrets in open G" by Chino Swing Slide. Agt 21.30. Concert: CHRISTIAN POYO & CHINO SWING SLIDE
- 9 am. XI Trofeo BTT Festes de Jesús. VII Challenge Honda Ibiza de BTT
- Folk dances: Ballada al Pí den Besuró. By Colla de Balansat. Folk dances, traditional games, music, ... From 18:30h
- Solidary Walk - AEMiF (Associació Esclerosi Múltiple). Meeting point+ exit : 19.00h Sant Agustí church.
- Guided Walk : Exit at 20.00. "Ruta de la lluna plena" (Full Moon Walk). Registrations at turisme@santaeularia.com or +34 971 330 7228. Meeting point : Jesús Church
Over 12 y.o. At 20.30h - Folk music at the Centre Cultural de Jesús.
- Estiu Jove 2019 brings to Ibiza this concert: PABLO LÓPEZ , tour Santa Libertad. Pablo López returns to the stage with the Santa Liberty Tour to present live, Camino, Fuego y Libertad their new and awaited album. "With this disc, I have scrambled everything, my life, my stories, even my house," says Lopez. 14th September at 22:00h. Place: Recinte Firal Ibiza Tickets: 9.-€ online in advance.
- 11.00.- 5ª GIMCANA BTT BICICLETES INFANTILS. (from 3 to 14 years old). Organized by Xebelíí. At the Plaza de Jesús. 11.30.- TRASCOLADA DEL VI to the square of Jesus. - Wine decanting --

SUNDAY
- Church square AT 12.00h. "Vermut de Blues" with BLUESMÀFIA I ES SALIGARDOS + JAM SESSION
- 15th September Concert @ Las Dalias. Band: LA VELA PUERCA (Uruguay). La Vela Puerca was formed in December 1995 and became one of the most important Uruguayan bands, merges rock, reggae and ska, is currently one of the groups of its country with the greatest call.