Our route departs from Sant Antoni, heading for Sant Josep around the side of Puig des Frare and Sa Fontassa, following pretty lanes among interesting and varied landscapes.
After leaving Sant Antoni and prior to arrival at Sant Josep, we approach the climb up Sa Talaia but do not arrive at the top, turning off beforehand to tour the Serra de Ses Roques Altes via a delightful track that passes through woods. We then make a giddy descent and pass close to Cala Vedella. An interesting 5th century B.C. Romano-Punic settlement, known as Ses Païses de Cala d'Hort, is located in this area.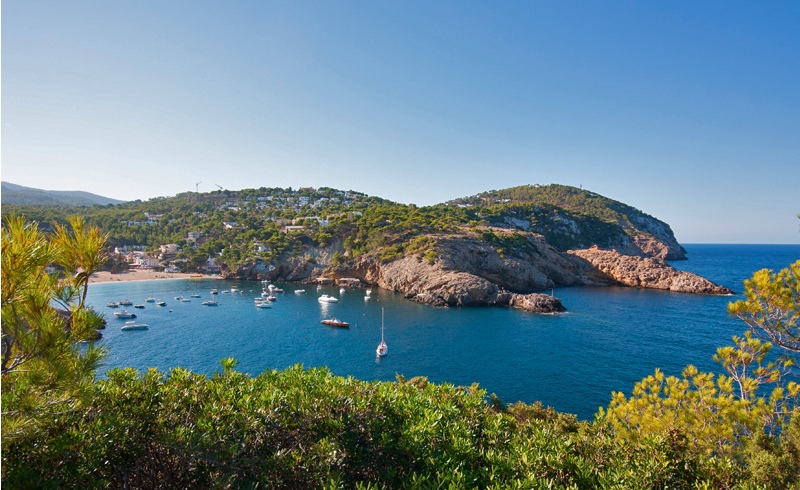 After that descent we go along a stretch of asphalt until we take a forest path that leads us up to Cala Molí where we start travelling along the coast. On arrival at Platges de Comte, the countryside changes dramatically and we return to Sant Antoni following the shoreline and passing through a coastal landscape typical of the western part of the island.
In summary, it is a pretty route that does not require a high level of cycling proficiency and which any cycling enthusiast can undertake without difficulty, it is a great way to start making small descents (on this route they are fast and fun) and, above all, it is a ideal route by which to get to know the beach by bike as in one day we visit the beaches of Cala Molí, Cala Tarida, Cala Codolar, Platges de Comte, Cala Bassa and, of course, Sant Antoni.
No water is available along the route but provisions can be found in the coastal part.
– Always wear your helmet.
ROUTE METER
1. Departure. We depart from the sign next to a roundabout. Heading east, we travel up the length of the street for almost 2 km and carry straight on at the two following crossroads.
2. Right turn. At this point we turn to the right next to some houses. We arrive at a track and turn left. Further on we cross a road and go straight on along a path.
3. Go straight ahead. We encounter some crossroads next to a road and we continue along the dirt track until we arrive at a road with a cycle lane. Here we turn to the left.
4. Right turn onto the track. Before arriving at a crossroads we turn right along a dirt track. Further up to the left and then to the right. We pass next to some houses until we arrive at a path by a rushing stream where we turn left.
5. Right turn onto the road. We arrive at a crossing with a road and we turn right to then turn left along another, ascending road. Some 600 metres later at a curve we continue along an ascending path.
6. Left fork. At this fork and the following one we take the left so as to continue along the same track without deviating from our ascent.
7. Right turn at the crossroads. We arrive at a track and we continue heading left in a southerly direction, heading straight on through all the crossroads. After 2.5 km we arrive at a road and we turn right.
8. Right turn. Next to some houses we turn right and ascend along a short street until the road where we turn right again. On arriving at the roundabout further up, we turn left towards Sa Talaia.
9. Left turn at the track. At this point we turn onto a track to the left which is the start of the climb up Sa Talaia.
10. Right turn at the path. Before arriving at the hill, we turn right along a path that passes through the woods. Further on it becomes a spectacular path.
11. Right turn at the crossroads. At this point we take a path that descends sharply to the right. We pass by a house and continue going down until we arrive at a road where we turn left.
12. Right turn onto the track. We arrive at a crossroads and, a few metres further on next to a house, we turn right along a descending track. We carry straight on through at least five crossroads until we arrive at a road where we turn right.
13. Left turn onto the path. At this point we turn left along a path that heads into the woods. At the following crossroads we go straight on and then turn left along a descending path.
14. Left fork. We arrive at a fork and continue to the left, going down. Further on, when we arrive at a path we turn right. When we get onto a road next to Cala Molí, we turn right.
15. Left turn at the crossroads. We reach a crossroads and turn to the left towards Cala Tarida. At the roundabout further up we carry straight on.
16. Left turn onto the path. We turn to the left through the wood via a path that we follow until we reach a track where we turn right. We get onto a road next to some houses and we carry on to the left.
17. At crossroads, right turn onto the path. We arrive at a crossroads and we turn off along a track to the right heading northwest. At the following crossroad we turn to the left and then to the right, going around an urbanisation.
18. Right turn at crossroads. We arrive at a crossroads between some houses and we turn right. Around 200 metres later, opposite a house, we turn left to go down to Cala Codolar.
19. Right turn at the stairs. We arrive at Cala Codolar and we go up by some stairs that lead to the right. We arrive at a road where we turn left then right and then straight on heading northwest.
20. Right turn at crossroads. At this crossroads we turn to the right. At the following crossroads, we turn left and then right towards Sant Antoni.
21. Left turn onto the path. Next to a container we turn left along a path, we carry on straight until a house that we go around to the left and then follow the line of the cliff northward.
22. At crossroads, turn to the right onto the path. After the stretch by the cliffs we arrive at a track and we go right. At the following crossroads we also turn right and some 300 metres later we turn left to Platges de Comte.
23. Right turn at the car park. We arrive at Platges de Comte car park and we go right following the coast.
24. Right turn. At this point we leave the cliff and we turn right through the wood. We arrive at a path and we carry on to the left so as to continue in an eastward direction and to carry on along the coast of Cala Roja.
25. Right turn. At the end of Cala Roja we turn right through the wood, leaving the coast. We enter a labyrinthine stretch with paths and trees where we head southwest until we reach a house where the track that we follow starts.
26. Left turn at the crossroads. We arrive at a crossroads next to a house and we turn to the left to Cala Bassa. A stone path leaves from the cove, heading east and going along the coast for 200 metres.
27. Go straight on. We arrive at a path and we carry straight on until another crossroads with a path where we turn left. We follow the path, without deviation, until a road.
28. Go straight ahead onto the road. We go onto a road and we carry straight on until we enter Sant Antoni.
29. Left turn at the crossroads. We arrive at the same crossroads close to the start of the route and we turn right to the point of departure.
30. End of route. We finish the route next to the roundabout where we began.

More information: www.santjosep.net