This route is designed for lovers of countryside and mountain. It is a tour that requires us to have a good level of cycling proficiency and proven physical fitness. That said, we enjoy a journey that shows us the interior of the island's far southwest, introducing us to traditional crops, impressive views and winding lanes while we pass through woods and fields which, especially in spring, overflow with colour and Mediterranean essence.
We begin by pedalling along asphalt but immediately exit from the paved route and immerse ourselves in a network of paths, tracks and trails that we do not leave until we have almost finished.
During the almost 40-kilometres route we experience an approximate 900 metres' difference in altitude which we tackle at two accessible climbs, first, Capelleta, and second, Sa Talaia, although we do not arrive at their summits.
Halfway through the journey -if the weather is right- it is almost impossible not to make the most of the brilliant waters of Cala Jondal or Porroig and take a refreshing dip.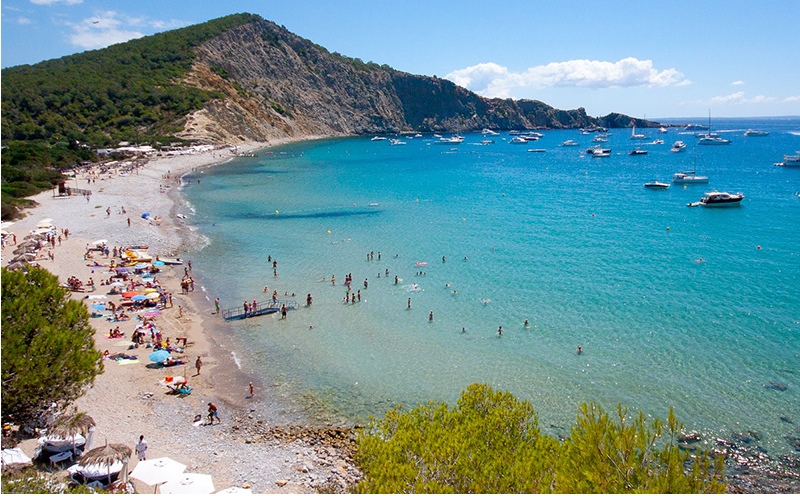 Afterwards, we climb halfway up the mountain of Sa Talaia, crossing impressive valleys full of local flora and fauna, and return to Sant Antoni through small, pretty fields of crops in more relaxing terrain.
– There are no fountains along the route and we do not pass through any villages: take food and water.
– Always wear you helmet.
ROUTER METER
1. Departure. We set off from avenida Dr. Fleming, on the roundabout of Cala de Bou, next to the route information sign, in a southerly direction.
2. Go straight on/left at roundabout. We reach the roundabout and pass through the zebra crossing since we have to take the street that exits to the southeast. At the following roundabout we go straight on and leave the village.
3. Go straight on along the track. At this curve we go straight on, entering the field via a dirt track that we follow for a while without turning off.
4. Go straight along the road. We arrive at a crossroads and we continue ahead along a road for around 2.5 km.
5. Go straight ahead. We reach a crossroads where we go straight ahead. We do NOT turn off towards La Capelleta.
6. Left turn onto the track. Next to a house we turn left along a track. At the next crossroads we go straight on and at the following fork take the right.
7. Left fork. We arrive at a fork next to a house and we take the left, a little further on we reach a path and we start going down towards the right.
8. Right turn. We continue on the main track to the right which we follow without turning off at any crossroads.
9. Right turn. We reach a dirt track, we turn to the right and we continue going down. At the next fork, we turn to the left.
10. Go straight along the road. We see a crossroads in front of us and we go straight on along the asphalt road without turning off.
11. Right turn. We come to the Sant Josep road but we take a path to the right that becomes a gravel track.
12. Straight along the track. We cross the road carefully and we go straight on passing the bar. At the following two crossroads we turn left and we continue along the track without turning off.
13. Left turn. At this stage we take a path that enters the wood to the left.
14. Right turn onto the path. When we arrive at a path with an impressive olive grove we turn right along a path that starts to descend and we enter the Cala Jondal mountain bike trail. We carry on along the path.
15. Right fork. We reach a fork and we take the right along a hard path with stones.
16. Go straight ahead onto the track. We come to a house and we go straight on, descending. At the next crossroads turn to the left and then straight ahead.
17. Right turn. We turn to the right to go into the woods again and we continue without turning off.
18. Left turn at the crossroads. At this crossroads we turn left. When we arrive at a house we turn left, going down a track.
19. Right turn at the road. We arrive at a road and we turn right and a little further on turn right again, continuing along a track without turning off.
20. Right turn at the road. We reach a crossing with a road and we turn right.
21. Go straight ahead onto the track. Once at this crossroads, we again go deep into the countryside along a track. At the following crossroads under the wood we turn right and then left.
22. Left turn. Now we turn to the left and a little further on, next to a house, we again turn to the left.
23. Left turn. We take a path to the left and 20 metres further on, again turn to the left along a track.
24. Right turn. We turn to the right along the track until we arrive at a road where we turn to the left.
25. Turn right. We turn to the right, ascending along a road until we arrive at a house with a large wall where we turn to the right along a dirt track.
26. Right fork. We take the right exit of the fork and we start descending. At the altitude of a large carob tree we turn right along a track that takes us deeper into the woods, crossing a river basin.
27. Left turn at the track. We arrive at a track and turn to the left. At the following fork, we take the left and go straight ahead for a while without turning off.
28. Go straight ahead onto the path. We reach a point where the path is not very clear. We must take the ascending path heading north which leads to an agricultural terrace. Once there, we turn to the left.
29. Right turn at the track. We arrive at a track where we turn to the right, ascending. At the following crossroads we turn right and we continue ascending along the same track without turning off.
30. Left fork. We begin the descent taking the left at this fork and we follow the track until we reach a road.
31. Right turn at the road. At this road we turn right until a crossroads where we turn right into the road in the direction of Sant Josep.
32. Left turn. At this point we turn left, we cross through some houses and heading left we join with another road.
33. Left turn at the track. We enter a track to the left, passing next to the school of Clown. At the following fork, we turn right, and then to the right again to continue on the same track without turning off.
34. Follow through the 'S'. The path takes an "s" shape and we carry on without turning off into any other path.
35. Right turn onto the path. We turn right and descend along a path. At the following crossroads, to the left and then to the right.
36. Straight along the road. We come to a road and we continue straight ahead.
37. Left turn onto the track. We cross the road and turn left into a track. Turn right at the following crossroads.
38. Left turn. We arrive at a track and turn to the left, and at the following crossroads turn to the right.
39. Left turn at the road. At this crossroads we turn left and a little further on we enter a dirt track to the right.
40. Go straight ahead. At this crossroads, we go straight ahead onto the path with walls on either side, and we continue on it WITHOUT joining the road to the right. At the following fork, take the right.
41. Go straight along the track. We leave a path and head straight onto a track, crossing the road.
42. At the street, turn to the right. Turn to the right and enter the village along a street. At the following crossroads, turn left and go straight along this street without turning off.
43. End of the itinerary. We finish the route where we began.

More information: www.santjosep.net