Enjoy this weekend in Ibiza: Rock'n bars, sport and theatre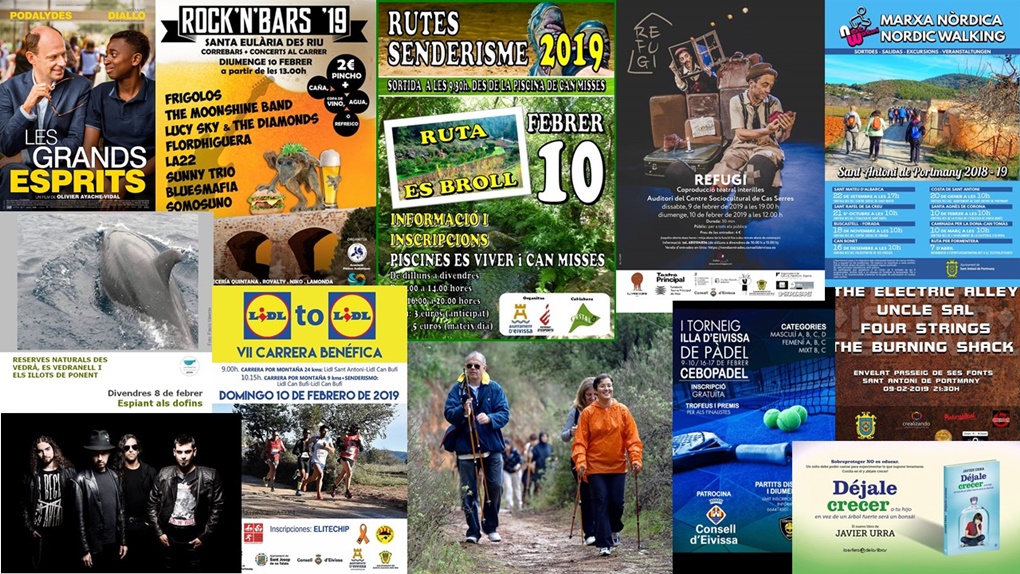 FRIDAY
- Storytelling @ Biblioteca de Sant Josep (St. Josep public library. By: Jimena. For children from 3 until 8 years old
8th February at 18:00h.
- 10th Edition of this Cycle of Conferences in Santa Eulalia. Talks in the field of education, upbringing and pedagogy inviting professionals of prestige. Today we´re having again, 10 years later on the island :Javier Urra
-Communicator and former Defensor del Menor of the Community of Madrid. Ibiza Congress Center. 19:30 h.
- Gimcana Juvenil Fiestas de Santa Eulalia for youngs in the Punt Jove (from 12 to 17 y.o.). Registration in the Punt Jove. Prize: a dinner for the winning team.
- Reserves Naturals des Vedrà, Es Vedranell i els Illots de Ponent. Friday 8th February @ Es Nàutic (Sant Antoni). "Espiant als dofins" (spying on the dolphins)
By Dr. Txema Brotons (Biologist and member of Associació Tursiops). first results of the project "our dolphins". Free event. From 19:30h
- Friday 8th February at 8.30 pm. Cinema: "Les grands Esprits". France. 2017. VOSE ( Original Version with spanish subtitles). Free entrance. Limited places.
Place: Can Jeroni
- Concert : "Tales of Gloom". Introducing their latest record : "Unexpected Traces of a Falling Escape" In the tent of the Passeig de ses Fonts. 10 pm.

SATURDAY
- Guided Walk @ Santa Eulalia. limited availability - please confirm attendance. Touristic information office of Santa Eulalia - Tfn: 971330728. e-mail: turisme@santaeularia.com
- Hippy market in San Jordi, Las Dalias and Forada (Buscastell).
- Illa d´Eivissa 1st Padel Tournement. 9th and 10th + 16th and 17th of february. CEBOPADEL - free inscription. Matches everyweekend. info : +34 664 414 501 / +34 649 112 545
- Walk with IEE (Institut d´EStudis Eivissencs). From Sant Vicent to es Forn des Saig. Grup de Coneixement del Medi. Meeting point and More info at their FB fanpage. IEE . Vía Púnica 29. Tfn.: 971312775
- Escaperoom for young members of the Punt Jove (12 to 17 y.o.). Registration in the Punt Jove.
10 - 13.30: Children's workshops at Punt Jove.
12.00 : Chime of the bells.
12.00 : Mass in tribute to those over 80 years in the chapel of Lourdes (main street)
13.30 : Brotherhood lunch for the elderly in the Palacio de Congresos de Ibiza in Santa Eulària.
18.00 : Handball. Silver division Puchi-Associació Lleidatana in the municipal pavilion.
19.00 : Closing concert of the 450th anniversary of the blessing of the church of Santa Eulària by the Municipal Music Band, the Parish Choir and the Friends of Music Choir - Puig de Missa
21.00 : Music with the Azahara orchestra in the tent.
- Carnival´s Concert in Can Ventosa. Banda Simfònica Ciutat Eivissa. 7 pm.
- Theatre: "Refugi" by Clownidoscopio. From 5 years old. Tickets 4.-€. https://vendaentrades.conselldeivissa.es. Or at the ticket box. 7 pm in Cas Serres.
- Rock Island Festival - Sant Antoni. The Burning Shack · Uncle Sal · The Electric Alley · Four Strings.
At the tent, in the Passeig de ses Fonts

SUNDAY
- 09.00h - Trail 23km : Lidl Sant Antoni - Lidl Can Bufí. 10.15h - TRail 9km + Walk : Lidl Can Bufí - Lidl Can Bufí. Organized by Trideporte. Register in elitechip.net
- Activities in Santa Eulalila:
9 am: Petanque. Tournament Festivities of Santa Eulària on the Santa Gertrudis soccer field.
Organizes the Club de Petanca Llar de Santa Eulària.
10 am. to 1 pm.: Children's workshops at Punt Jove.
12.00: Traditional dances by the group "Jotas Serranas de Pozo Alcón" and the ibizenco traditional dance group Es Broll.
From 1 pm: Rock'n'bars in the streets of the center of Santa Eulària.
4 pm: Football :Peña-Murense in the municipal field.
6 pm: Children's entertainment. "Foldkids" with Pep López & Sopars de Duro in the tent. All publics.
7.30 pm: Theater. "Sa partió" by the theater group Es Cubells at the Teatro España. € 5 . Limited capacity.
- Es Broll. Meeting point - Can Misses swimming pools ( Bus transfer) at 9.30h. Can Tixedó - Es Broll - Sant Mateu
8k. Difficulty : Low - Medium. These hikes are thought for every kind of people from 12 years old. Organized by the Patronato d´Esports d´Eivissa. Register: Until 21.00h of the friday before at the swimming pools in Can Misses & Es Viver. 3€ in advance. 5€ the same day
- Activities in Santa Agnès: 10 am - Nordic Walking. Meeting point: Church Square.
11 am- Sofrit pagès Contest. At the tent. Registrations until Thursday 7th at tfn: 661776550.
6 pm- Theatre: DIANXES, QUINA HISTORIA. By Grup de Teatre des Molí. At the Tent.
- Hippy Market in Sant Joan from 10 am. to 3 pm.
- Rock'n bars in Santa Eulalia: From 13.00h in the streets of Santa Eulalia
2€ : Caña/wine + pincho.
The bands:
Frigolos · THe Moonshine Band · Lucy Sky & the Diamonds · Flordhiguera · La22 · Sunny Trio · Bluesmafia · SomosUno
The bars :
Cerveceria Quintana · Royalty · Niko · Lamonda · Duquesa · Falucho · Sacacorchos · Sal i Reïm · Magic · Hamburguesería Lina · Smoker´s Delight · Xtú · Qué tal Café · Rincón de Pepe · Can Cosmi