Gastronomy, music and sport to enjoy this weekend!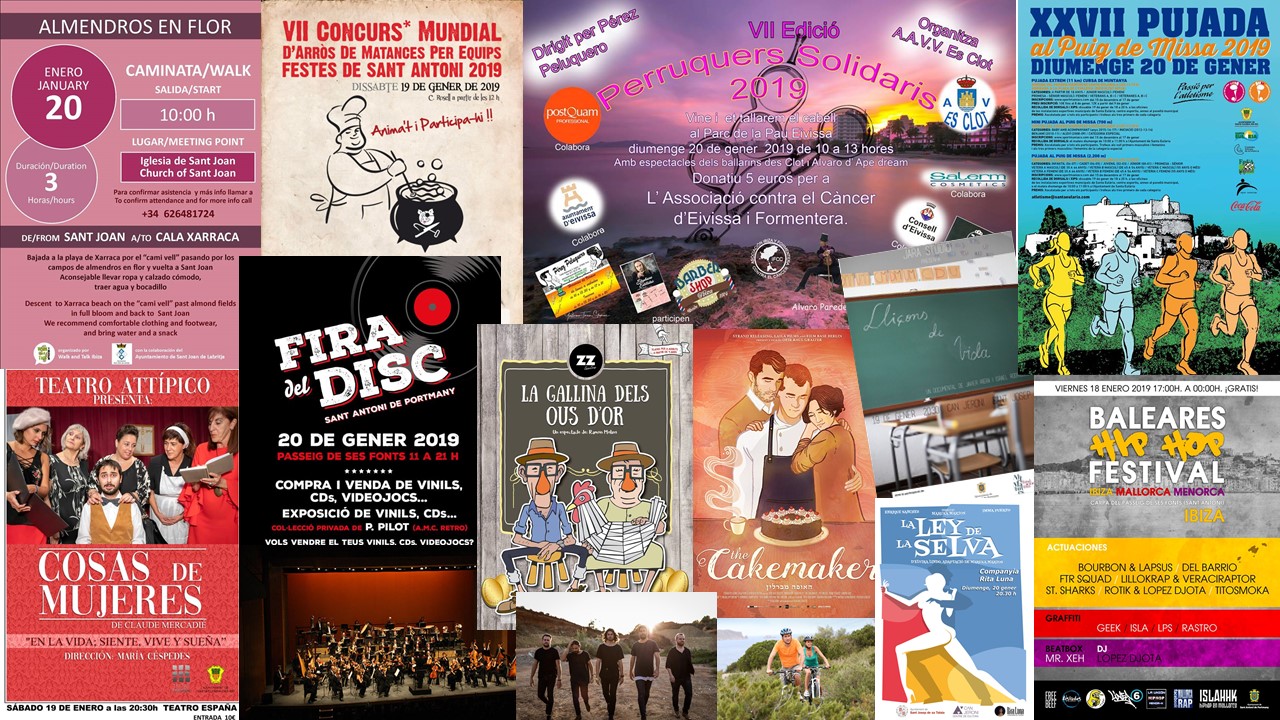 FRIDAY
- Baleares Hip Hop Festival in Passeig de ses Fonts, San Antoni. From 5 pm. to midnight.
- Storyteller with Kamishibai, in Can Ventosa 7 pm.
- Conference: "Los primeros años de Turismo en Sant Antoni", 8 pm. in Es Nàutic.

SATURDAY
- Cinema in Can Jeroni: The cakemaker (The Pastisser of Berlin) (2017)
- Concert of Morning Drivers in Santa Agnès de Corona. A German pastry maker travels to Jerusalem in search of the wife and son of his dead lover. In Can Jeroni. Free entrance. Limited places.
- Market in San Jordi, traditional market in Forada (Buscastell) and Hippy Market in Las Dalias (San Carlos).
- Divercan More than trained dogs, we´re talkinga about Super-Dogs. On saturday from 14.00. Sunday morning from 10.00. At the Club Agility Sant Antoni Facilites. Cami vell de Sant Mateu.
- Soloists concert in Can Ventosa. 7 pm. Banda sinfónica Ciutat d'Eivissa.
- Theater in Teatro España "Cosas de mujeres". 8.30 pm.
- Cinema in Can Jeroni. "Lecciones de vida". 8.30 pm.

SUNDAY
- Divercan (agility dogs) in Club Agility de San Antoni 10 am.
- Competition "Pujada al Puig de Missa". 9 am.
- Guided tour: "Almendros en flor" from San Juan to Cala Xarraca.
- Nordic Walking Sant Antoni, today : the Coast of Sant Antoni. From 10.00h. Meeting point - Town hall building.
- Traditional marker in Sant Joan.
- Cycle Tourism Route - Santa Gertrudis. Eivissa - Sta Gertrudis - Eivissa. 26 km with a slope o 300m. Easy route. Departure and arrival point: Antoni Albert i Nieto Square (boulevard Abel Matutes).
Time of All departures: 10.00h. Rest and small breakfast: 11.30h. Opening hours: approximately 13:00 on the boulevard. Registration points: Vivero and Can Misses municipal swimming pools, and Can Manolo Bikes.
Registration fee: € 3 (€ 5 on the day of departure). Places limited to: 100 participants.
- Solidarity hairdressers in Ibiza Town, Parque de la Paz. From 10 am to 1 pm.
- Theater in Teatro España: "La gallina de los huevos de oro".
- Theater "La ley de la selva" in Can Jeroni. 8.30 pm.