1st weekend of December in Ibiza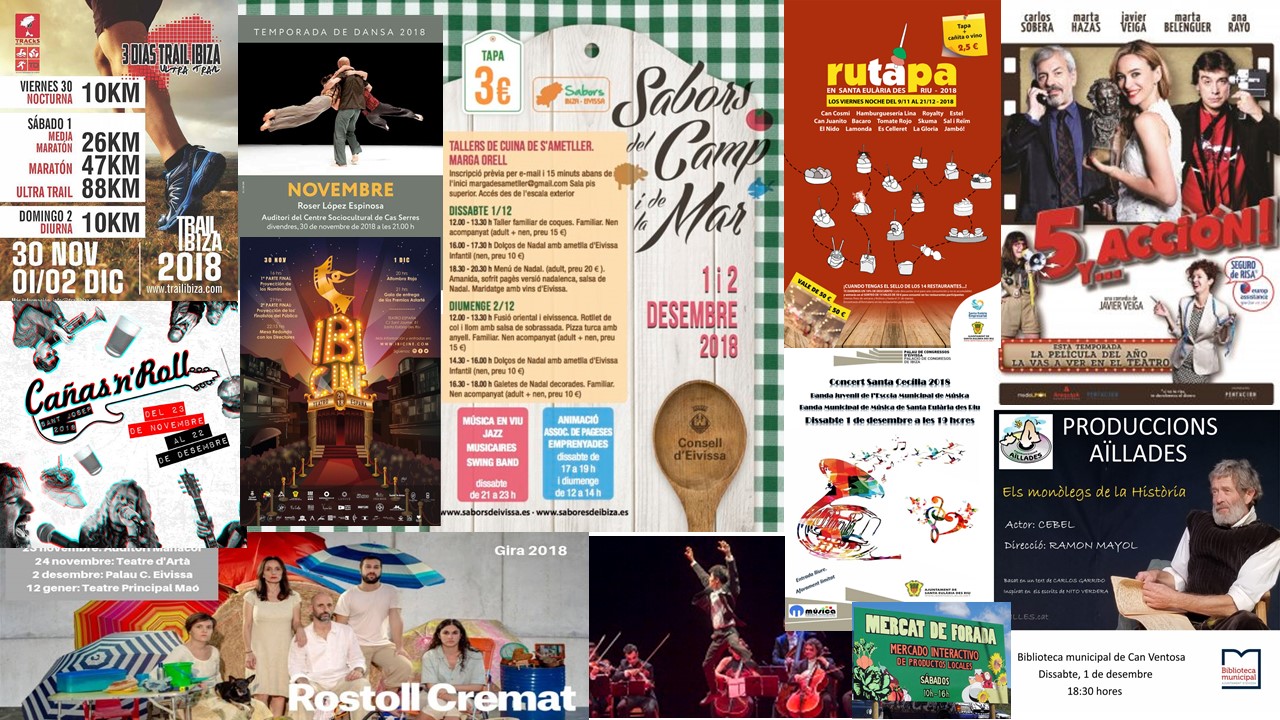 FRIDAY
- Rutapa in Santa Eulària. 2,5 €. Every Friday to 21 of December.
- Inauguration of the Christmas Parties. From 6.30 p.m.
- Ibiza Trail: 30th november - 10km Night run. 1st december - Half Marathon - 26km. Marathon - 47km. Ultra Trail - 88km. 2nd december - 10km.
- Artificial ice skating rink in Ibiza town. Plaça Antoni Albert i Nieto. 2€ for 30 minutes.
- World Premier in Sant Josep : "Jazz & Nature". Documentary. Directed by Antonio Isasi JR. Music by ; Joachim Kühn. A look at Joachim Kühn´s live, who´s been living in Ibiza for the last 25 years. The film shows the evolution of this infant prodigy that with just 10 years played JS Bach on the piano. In Can Jeroni at 8.30 pm.
- Contemporary dance show 'November', by Roser López Espinosa. 9 pm. in Cas Serres.
- Christmas Market in Vara de Rey, every day to 6 th of January.
- Ibicine, in Teatro España.
- Trail Ibiza: Ultra Trail, Friday, Saturday and Sunday.
SATURDAY
- Flea Market in San Jordi.
- Las Dalias Hippy Market (San Carlos)
- Artesanal Market in Forada (Buscastell).
- Fair "Flavours from the land and the sea". Local Produce Gastronomic Fair. In "Recinto ferial de Ibiza".
- "Cañas n'roll" in San José.
- 30th Anniversary of the public library of Eivissa. 6:30 pm.
- Concert of santa Cecilia in Sta. Eulària. 19 h.
- "Concerto a tempo d´umore", show in Cas Serres.
- Gala Astarté Award Ceremony. 9 pm. in Teatro España.
- Theater in Can Ventosa: "5 .. y ¡acción". 9 pm.
- Friend and Enemy of the Earth Award. By Amics de la Terra - Eivissa. At 14.00h in Can Truy. Price - 30€. Book your place before wednesday, 28th. via email : infoamicsdelaterra@gmail.com


SUNDAY
- Walk in Santa Gertrudis: Exit at 09.00 from the church´s square in Santa Gertrudis. 2nd exit at 12.00 from Santa Agnès de Corona. From there : Walk through Corona hills · Puig d´en Andreu · es Castellar · back about 16.30h.
- Artesanal market in Sant Joan.
- Theater "Rostoll Cremat" by Produccions de Ferro (Mallorca) - Burnt stubble. 8 pm. in Palacio de Congresos de Ibiza.
- Theater dance in Can Ventosa: Penelope. 9 pm.