Theater and guided tours for this weekend!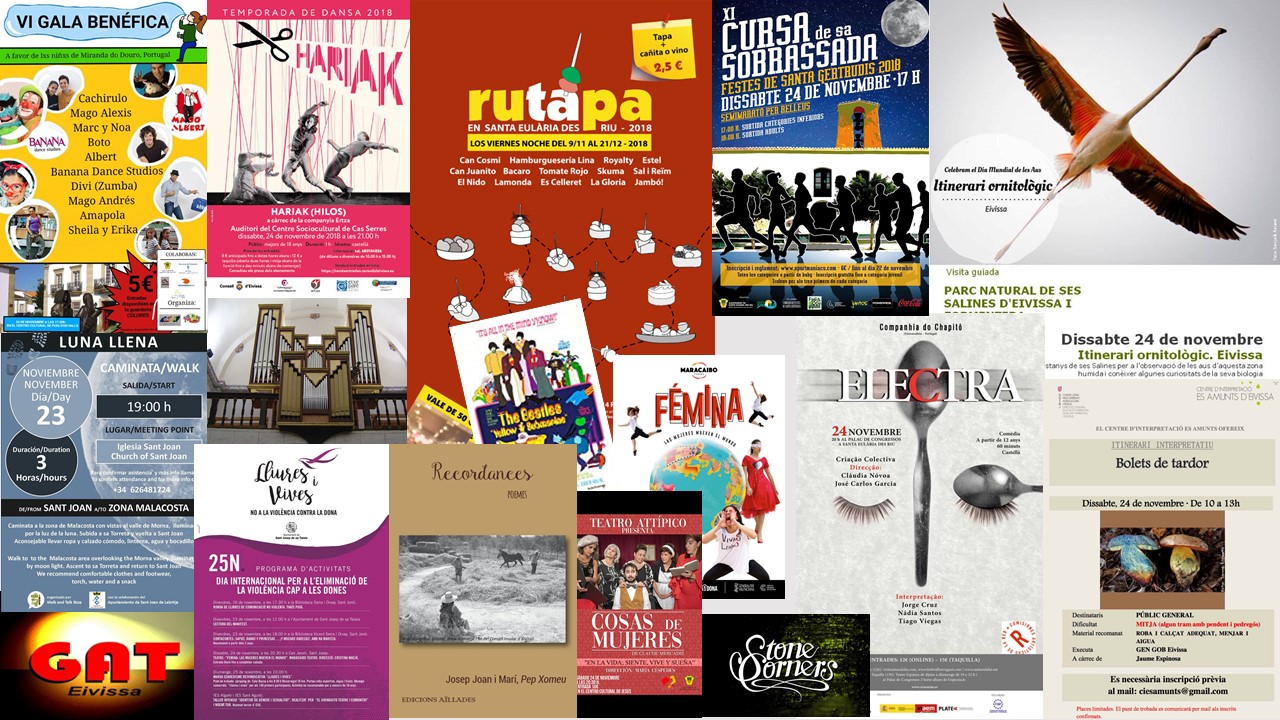 FRIDAY
- Night Walk - Full Moon in Sant Joan. Walk to the Malacosta area overlooking the Morna valley illuminated by the moon light.
AScent to sa Torreta and back to Sant Joan. Bring comfortable clothes and footwear, torch, water & snack. Free event. Register +34 626 481 724. Meeting point - Church of Sant Joan. 3 hours walk.
- "Out of plastic" - Documentary screening. Eivissa. 7 pm. Consell de Ibiza.
- Cinema´n Roll : The Yellow Submarine. 20:30 in Can Jeroni.
- International Day to ban violence against Women - Sant Josep. 12.00h - Manifesto reading. Town hall building. By Ana Ribas. 18.00h - Sant Jordi Public Library. Storyteller : "Sapos, ranas y princesas...muchas rarezas!" by Ana Maritza. For children from 3 y.o.
SATURDAY
- International Day to ban violence against Women. Theater : "Femina : las mujeres mueven el mundo" by Marcaibo Teatro in Can Jeroni. Directeed by Cristina Macià.
- Theater : "Serán sólo unos días" ( It´ll be just a couple of days). Friday, saturday and sunday at 21.30h. Directed by Merche Chapi. GAT Company. With - Meritxell Martínez, Cristina Ramón, Enrique Garcerán and Ferran Aznar.
- Ornithological itinerary. Ses salines Eivissa. Meeting point - Centre Interpretació Sant Francesc. Eivissa. ( Church of Sant Francesc). Recommended : bring your binoculars and mosquito repellent. From 10 to 13. Free activity. Must register in advance +34 971 1177 688 ext#3
- Mercat de Forada: Every saturday from 10:00h to 16:00h we can find in Buscastell this Local Produce Interactive Market.
- Guided Walk : "Bolets de Tardor". IMPORTANT: The participation is totally free. Attendees must respect the following points:
1) Pre-registration by sending an email to the Interpretation Center is Amunts: ciesamunts@gmail.com indicating name and surname, mail and telephone number.
The list of 25 attendees will be drawn up according to a rigorous order of arrival of the mails.
2) You will receive confirmation of your registration by email. If you have already passed the number of attendees at the time of registration, you will go to the waiting list.
3) A few days before the itinerary you will receive an email to confirm your attendance and indicate the meeting point of the itinerary.
It is imperative that you answer this to confirm your attendance
4) During the itinerary, attendees will follow the instructions of the monitor.
- XI Cursa de sa Sobrassada - "Sobrassada" Race. Registrations in - sportsmaniacs.com. 6€
- VI Gala Benefica - Centre Cultural Puig d´en Valls. In benefit of the children from Miranda do Douro, Portugal. Cachirulo · Mago Alexis · Marc & Noa · Boto · Albert · Banana Dance Studios · Divi · Mago Andrés · Amapola · Sheila & Erika. Admission 5€. From 17.00h in the Centre Cultural Puig d´en Valls.
- Organ Autumn concert in Sant Josep: Finally, the cycle closes and will be run by the organist of the Monastery of Montserrat: Andreu Martínez, who will play the Cantatibus Organis. 8 pm.
- Theater "Electra" in Palacio de Congresos. Electra. Companhia do Chapitô (Extremadura - Portugal). Comedy - from 12 years - 60 min - Spanish. After 10 years of war returning from Troya, Agamemnon is killed and Electra, the father's favorite daughter, for whom he feels devotion, will consummate the revenge with the help of his brother Orestes, killing his own mother and uncle Egisto, who stormed the crown. All this killings and blood told in key of comedy. Admission - 12€ ( online). 15€ at the ticket box.
- Show Ariak, Cas Serres 9 pm. Hariak : a production by the company Ertza, directed by Asier Zabaleta and written by Harkaitz Cani
A "multidisciplinary show (theater, dance, puppets) created from the experiences of People who have seen how the threads that sustained their lives have suddenly broken, and have had to start a new life from scratch. "
The price of the tickets is € 8 the anticipated -from twelve hours before- and € 12 at the box office. Get your tickets at +34 680 104 856 ( mondays to fridays from 10am to 3pm). Online at https://vendaentrades.conselldeivissa.es. Cas Serres. At 21.00h.Public : +18 y.o. In spanish.
SUNDAY
- International Day to ban violence against Women. Reivindicative Walk "Lliures i Vives" ( Free and alive). 10km route. Meeting point - parking Cala Bassa, at 09.30h.
- Ecologic and hand-made products in Sant Joan. From 10.00h to 16.00h every sunday, winter and summer.
- 1st "Vi Pagés" Santa Gertrudis International Contest. 11 am in Santa Gertrudis.

Consult all events: here.