Spring arrives at Atzaró.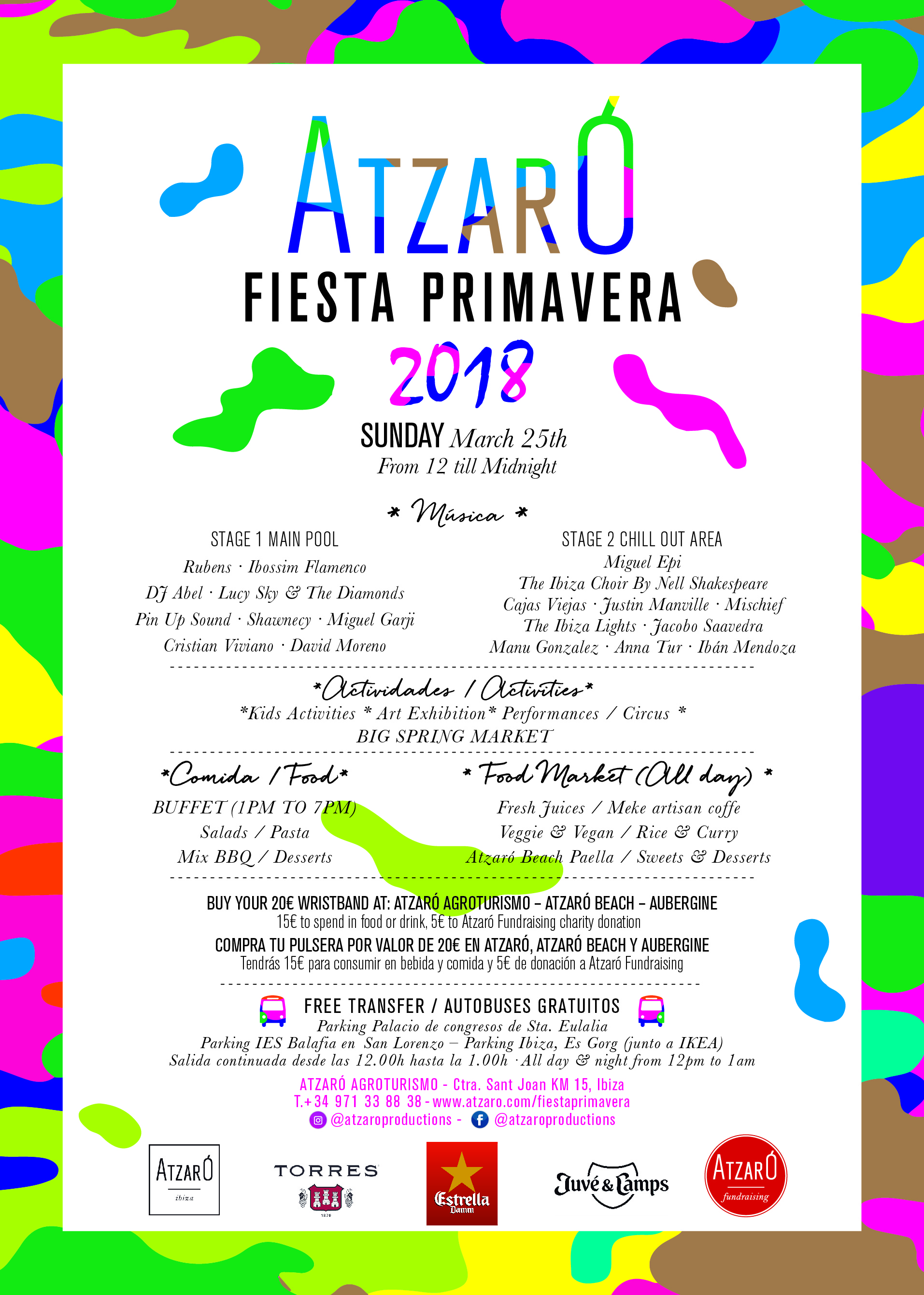 Sunday 25th of March – From 12:00 – Agroturismo Atzaró
Fiesta de la Primavera – Philosophy & Description
Welcome all, to the Fiesta de la Primavera at Atzaró
In its gardens an event with international people from all around the world: families, children, young and old, locals and tourists, workers, bohemians, artists and musicians, pets, couples, groups of friends… Everyone is happy in the Fiesta de la Primavera.
More than 15 live performances... the best representation of the people who live and love this island, flowers, light, colours and stunning atmosphere throughout the day, activities for children, food workshops, holistic workshops, art exhibitions, buffet and stands of food and drink, performances, DJs , live music make this meeting something unique in the natural paradise that is the Agroturismo Atzaró.
TICKETS : The great news of 2018, to control the capacity, which will be limited and to guarantee the enjoyment and safety of all attendees. Children under 18 years old will have free access, accompanied by an adult
WRISTBANDS NOW ON SALE BUY YOUR 20€ WRISTBAND AT: Agroturismo ATZARO ibiza Atzaró Beach - cala nova Aubergine Ibiz15€ TO SPEND IN FOOD OR DRINK, 5€ TO ATZARÓ FUNDRAISING CHARITY DONATION All the info at http://atzaro.com/fiestaprimavera/en
CASHLESS From March the 12th, you can create your cashless account. Only 2 minutes to link your ticket to your account and top up credit on it. You'll pay with your wristband. And you'll be refunded if you have remaining money on it. Or pick up your wristband at the entrance at Atzaro Hotel.
ATZARÓ FUNDRAISING Atzaro Fundraising is a non profit association that was born with the idea of supporting local charities and environmental organizations. Atzaro FundRaising begins its journey with La Fiesta de la Primavera, on Sunday the 25 of March 2018. Thanks to your donations we will support four different local charities which we will announce in due course.
Atzaró Fundraising will collaborate in this first action with the PLATAFORMA SOCIOSANITARIA DE LA PITIUSAS, JUNTOS, CARITAS AND THE TRINITARIES OF SANTA EULARIA, projects with people who need it on the island. Happy to be able to present this initiative !
FREE TRANSFER Parking Palacio de congresos de Sta Eulalia – Parking IES Balafia in San Lorenzo – Parking Ibiza, Es Gorg (next to IKEA) All day & night from 12pm to 1pm.
ACTIVITIES
- MARKET More than 30 Stands with: art, fashion, crafts, jewelry…etc.
- FOOD Buffet 1:00pm to 7.pm 35€ : Salads, pasta & rice ,fish , meat & desserts
Food stands. All day
- BBQ - Vegetarian & Vegan / Vegetariano y Vegano - Rice & Curry – Arroces y Currys - Desserts – Dulces y postres - Spanish Paella (pool) / Paella Mixta y Arroz negro - Meke Coffee Roasters
KIDS ACTIVITIES (for all ages) - 12:00 to 7:00 pm - Face painting / - Tatoos - Art Workshop / - Sports
ART EXPO – All Day - Pinturas en vivo / Live Painting
PERFORMANCES & Live Music – all day
* Dancers / Bailarines, - Circo / Circus
LINE UP – MAIN POOL - 12:00 till 00.00h 12:00 – RUBENS 13:30 – IBOSSIM FLAMENCO 14:30 – DJ ABEL 16:00 – LUCY SKY & THE DIAMONDS 16.45 - PIN UP SOUND 17:30 – SHAWNECY 18.30 – MIGUEL GARJI 20.30 – CRISTIAN VIVIANO 22.30 – DAVID MORENO
LINE UP - CHILL OUT AREA 12:00 till 00.00h 12:00 – MIGUEL EPI 13.00h – The ibiza choir by Nell Shakespeare(Live music) 13.15h – CAJAS VIEJAS 14.00h – JUSTIN MANVILLE 15.00h – MISCHIEF 16.00h – THE IBIZA LIGHTS 17:30 – JACOBO SAAVEDRA 18:30 – MANU GONZALEZ 20.30h - ANNA TUR 22.30h - IBAN MENDOZA