Dance and music, among others, this week end.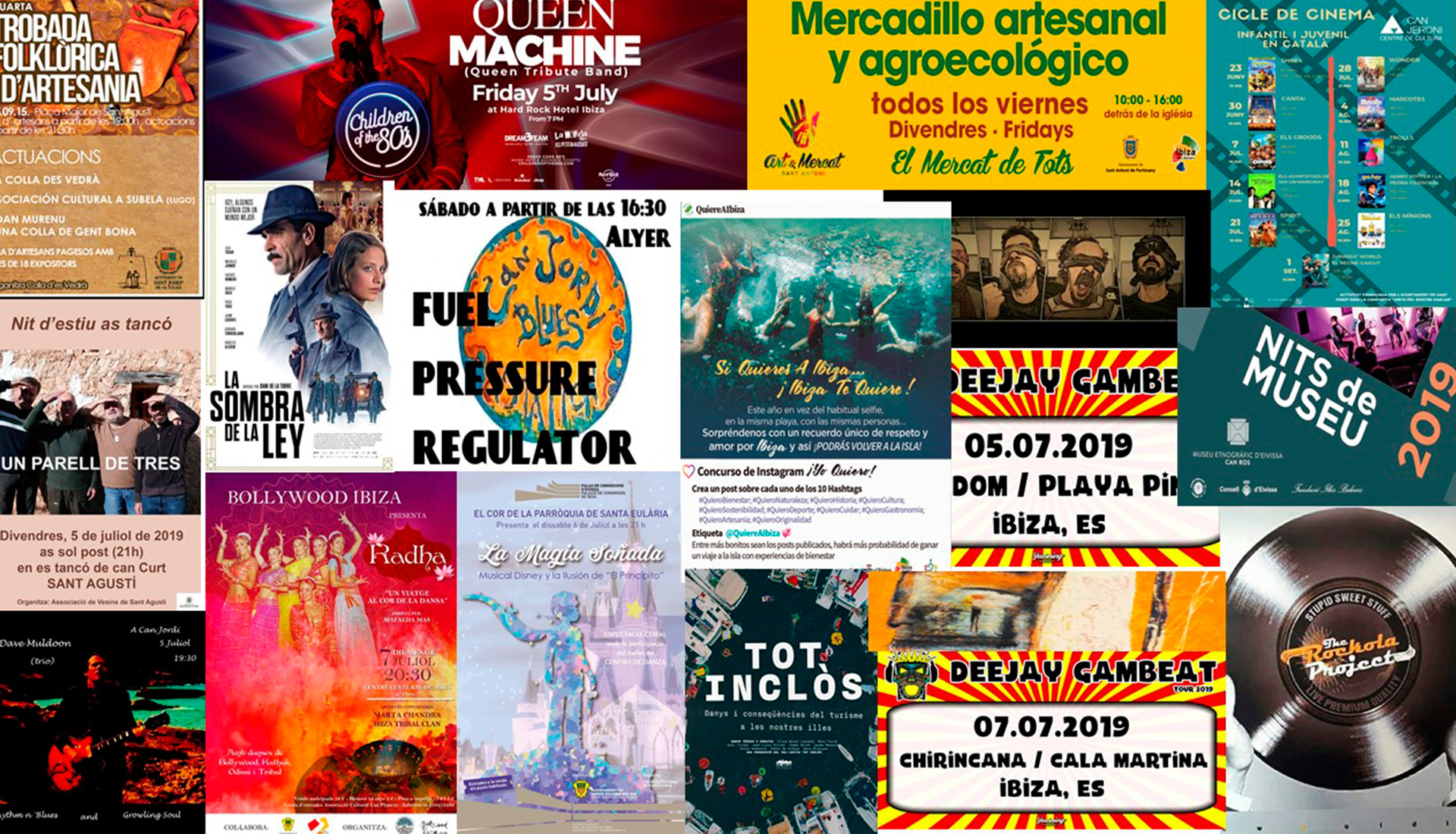 VIERNES
A partir de las 14:00 - 23:00h Gambeat + Mauro Slap (Radio Bemba Sound System).
Lugar: PLaya Pinet – Freedom
17'00 H. a 22'00 h. En las calles de Sant Antoni: Mercadillo artesanal agroecológico.
19:00 TOY STORY 4 (DIGITAL 2D). Versión en castellano. 21:15 V.O.S.E A PRIVATE WAR (LA CORRESPONSAL) (DIGITAL 2D). Versión original en inglés subtitulada en castellano. Teatro España.
19'30 h. Dave Muldon trio en Can Jordi. Rythm n´Blues and Growling Soul.
21'00 h. Canciones de "Un parell de Tres" en es tancó de Can Curt - Sant Agustí
21'00 h. Cine Can Jeroni: La sombra de la ley
22'00 h. Rockola Project en Can Rock! - Bahía Sant Antoni
Exposiciones:
Museo Etnográfico, 150 años de la publicación del libro :"Les Antigues Pitiüses".
Sa Nostra, "Tur Costa Retrospectiva"
Adda Gallery,Sant Josep, "Equilibrium" exposición en solitario de ABEL IGLESIAS.
La Nave Salinas, Kenny Scharf @ La Nave Salinas
Hotel OD Talamanca, Exposición Fotografía: "Objectiu Rock&Roll"
Hotel OD Ocean Drive, Exposición de Pinturas Aída Miró : "Splendidas"
Diario de Ibiza, "Under the influence of Ibiza" Exposición de Helen Sadler.
Concurso Instagram "Quiere a Ibiza" gana un viaje para 2 pax
SÁBADO
16'30 h. Fuel Pressure Regulator en Can Jordi
19'00 h. Festival Estudio de Danza Adrián Pineda. Espai Cultural Can Ventosa.
A partir de las 19'00h. Children of the 80's en Hard Rock Hotel. Queen Machine.
A partir de las 19'00 h. con más de 15 puestos de artesanía. 9ª Trobada folklòrica i d´artesania en Sant Agustí.
20'30 h. Emisión Documental: "Tot inclòs" Documental y charla. En Can Jeroni.
21'00 h. Musical : "La Magia soñada" Musical Disney y la magia de "El Principito"
Palacio de Congresos de Ibiza. Coro Parroquial de Santa Eulalia, con la participación del ballet de Centro de Danza.
22'00 h. Nits de museu 2019 en Can Ros - Noches de Museo Carlos Tur (tenor), piano: Elvira Ramón.
22'00 h.- Dr Trapero en Can Rock
Y los mercadillos:
Sant Jordi
Las Dalias
Sant Josep
Forada
DOMINGO
A partir de las 17'00 h. Chirincaca Cala Martina Gambeat + Mauro Slap (Radio Bemba Sound System).
19'30 h. Cicle Cinema Infantil i Juvenil - Can Jeroni (Sant Josep)
19'00 h. Exposición : Lula Martins en la Garden Art Gallery "Abstracto Onírico"
20'30 h. Centro Cultural de Jesús RADHA, viaje al corazón de la danza.
Durante la mañana, mercadillo en San Juan.
La Huerta, Organic Food Festival
Mercadillo nocturno en Las Dalias