International Film Festival, Jackson dance company and more for this weekend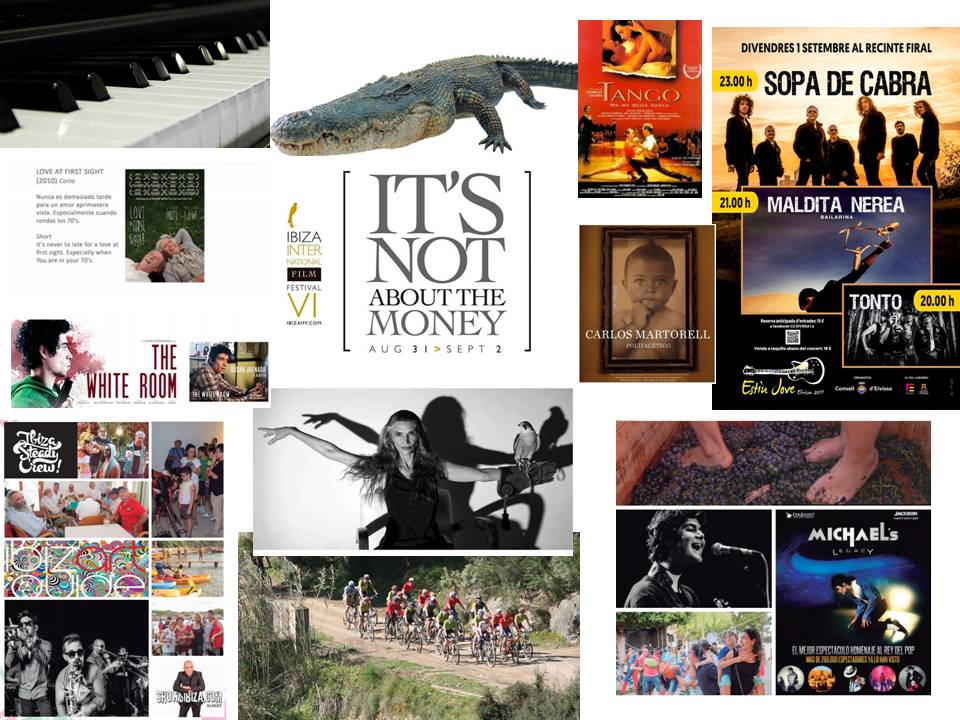 International film festival, Jackson Dance Company and more events for this weekend:
Friday:
International Film Festival: Love at firs sight and The White room
Concert of Sopa de Cabra, Madita Nerea and Tonto
1st of septiembre XIII party of Carthaginians and Romans. Children's day in the programm of Sant Bartomeu's festivity.
1st of setember- Mary Wu's concert with songs as "Twinkle, twinkle, little star" in Festival Music in Sant Carles.
Friday 1st of Septembre "Ball aferrat" with Juan Carlos and his accordion en church's square of Sant Agustín at 08:00 p.m, in the program of Sant Agustin festivities
Presentation of the exhibition by Andreu Moreno in P/Art.
In Jesus, in the festivitie's programme:
- 7pm - Nutritional Workshop - Healthy snacks in the Centre Cultural de Jesús. For children from 4 to 11.
- 7pm to 9pm - Astronmy workshop at the Centre Cultural de Jesús - "Our neighboring planets"
- 8pm - Exhibition - Inauguration "Ibizaartguide Nr 8"
- 8.30pm - Fiestas proclamation with "Mag Albert"
- 9pm - Ibiza Steady Crew - show.
- 10pm - Live music with the Red Funky Jackets

Saturday:

2nd of septembre XIII party of Carthaginians and Romans. Adult's day.
2nd of setember - Noel Redolar's concert in Festival music of Sant Carles.
Poetry night and music in Can Curt. 09:00 p.m, in the programm of the Sant Agustin's festivities.
Ibiza International Film Festival: "Carlos Martorell, pofifacético" y "Tango"
In Jesús, in the festivities programme:
- 4pm - Clay pigeon shooting
- 6pm - Popular ibizenco fiesta organized by sa Colla de l´Horta.Traditional folk dances, crafts market, guest folk association performance by Grupo de Danzantes de Tauste ( Zaragoza)
- 6.30pm - V Chess Tournement. At the Centre Cultural de Jesús.
- 6.30pm - Traditional grape treading. At the church square.
- 9pm - "Canta i sonada pagesa"Music and traditional song.
- 11pm - La Jackson Dance Company, for first time on the island, this company pays a dancing tribute to Michael Jackson.
Sunday:
3rd of setember-Chirstina Hyun-ah Choi's concert in festival music of Sant Carles.
Concert classical music at 08:30 p.m.
Bike tour, for yound day
Xacota Pou des Rafals
In the programme of Jesu's festivities:
12pm - Homenage mass to the ederly people of Jesús. With the Pla de Jesus Choir and the Colla d´Horta folk association.
2pm - Lunch. Homenage to ederly people
8pm - Mag Albert and his magic show will start the soiré, followed by NAT BAND dance and music contest.